Solitude Store update!
Download full catalog - http://solitudestore.com/SP-Catalogue-EN.xls
Скачать полный каталог - http://solitudestore.com/SP-Catalogue.xls

We invite you to join our Google group to get all label updates
Присоединяйтесь к нашей группе Google чтобы получать информацию о новых поступлениях и новости лейбла (подписчики получают список новинок сразу после рассылки каталога без задержки)
http://groups.google.com/group/solitudeprod
Station Dysthymia "Overhead, Without Any Fuss, The Stars Were Going Out"
CD available for preorder (release date 01/07/2013)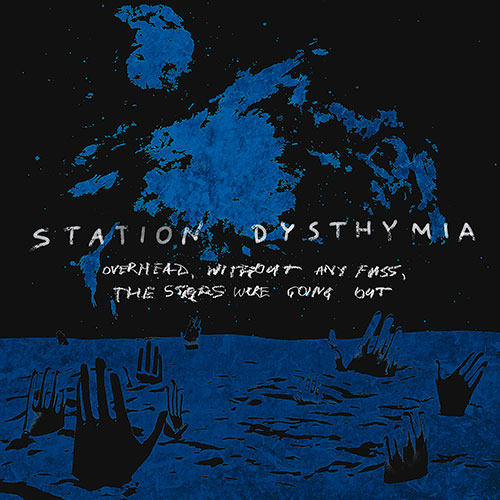 The long awaited full length album from Siberian (Russia) funeral doom metal band Station Dysthymia rises this conservative genre to a higher level. Inheriting the album name from the «The Nine Billion Names of God» by Arthur C. Clarke this unpredictable album crafted in traditions of funeral doom inters the area of science fiction combining musical genre with fictional scientific theories. The musicians themselves treat the main idea of the album as perspective of human personal tragedy at the background of the tragedy of human society as a whole which tends to self-destruction. This is the band's vision of the story of the World's end: solid guitar sound combined with growl in different emotional tones draw the senses of mankind fallen into apathy and drifting towards self-destruction. The dark soundscapes were created with help of Greg Chandler from Esoteric who performed mastering at his studio in UK, M. Hater and I. Stellarghost from Abstract Spirit appeared as guest musicians.
Долгожданный полноформатный альбом сибирской funeral doom metal группы Station Dysthymia, поднимает консервативный жанр на новый уровень. Взяв название из произведения Артура Кларка «Девять миллиардов имен Бога» этот непредсказуемый альбом, сработанный по канонам funeral doom, переходит в поле научной фантастически, сочетая в себе традиции музыкального направления и литературных научных теорий. Сами музыканты основные идеи альбома видят в преломлении личной трагедии человека в трагедии всего человеческого общества, направившего себя на путь саморазрушения. Это описание конца Мира, как его видит группа: гитарный плотный звук в сочетании с гроулом в различных звуковых и эмоциональных тонах рисуют чувства человечества, впавшего в апатию и идущего к самоуничтожению. Выстраивать мрачные ландшафты группе помогали Грег Чандлер из группы Esoteric, проведший сведение и мастеринг на своей студии в Англии, а также M. Hater и I. Stellarghost из группы Abstract Spirit , выступившие в качестве приглашенных музыкантов.
New Arrivals / Новые поступления
Abhor [2011] Ab Luna Lucenti, Ab Noctua Protecti (black metal)
Albatross/Vestal Claret [2012] SplitCD -The Kissing Flies / Black Priest (heavy metal)
Ayat [2008] Six Years Of Dormant Hatred (black metal)
Bahimiron [2008] Southern Nihilism (black metal)
Bahimiron [2011] Rebel Hymns Of Left Handed Terror (black metal)
Belial [1993] The Gods of the Pit pt. II (Paragon So Below) (black / death metal)
Blood Cult [2010] We Are The Cult Of The Plains (black 'n' roll)
Blood Ritual [1997] At The Mountains Of Madness (death metal)
Canis Dirus [2009] A Somber Wind From A Distant Shore (black metal)
Canis Dirus [2012] Anden Om Norr (black metal)
Chasma [2011] Declarations Of The Grand Artificer (black metal)
Chasma [2013] Codex Constellatia (black metal)
Dodsferd [2007] Fucking Your Creation (black metal)
Drawn And Quartered [2006] Hail Infernal Darkness (death metal)
Drawn And Quartered [2007] Merciless Hammer Of Lucifer (death metal)
Fear Of Eternity [2007] Funeral Mass (melancholic black metal)
Godless Rising [2007] Battle Lords (death metal)
Godless Rising [2010] Trumpet Of Triumph (death metal)
Grimbane [2008] Let The Empires Fall (black metal)
Hacavitz [2005] Venganza (black metal)
Hacavitz [2007] Katun (black metal)
Hacavitz [2010] Metztli Obscura (black metal)
Haeresiarchs Of Dis [2010] Denuntiatus Cinis (black metal)
Horna / Musta Surma [2000] SplitCD -Viha Vuodet (black metal)
In Memorium [2003] From Misery…Comes Darkness (black metal)
Infernal Legion [2011] Spear Of Longinus (death metal)
Masochist [2007] History (black metal)
Meat Shits [2002] Gorenography (grindcore)
Meat Shits [2002] Violence Against Feminist Cunts (grindcore)
Nadiwrath / Hexenmeister [2012] SplitCD -Raze The Cosmic Inexistence (black metal)
Pact [2012] The Dragon Lineage Of Satan (black metal)
Psycho [2011] Pain Addict Pigs (death metal)
Satan's Host [2008] The Great American Scapegoat (death black metal)
Satan's Host [2009] Power ~ Purity ~ Perfection...999 (death black metal)
Satan's Host [2011] By The Hands Of The Devil (death black metal)
Satan's Host [2011] Celebration: For The Love Of Satan (death black metal)
Serpens Aeon [2003] Dawn Of Kouatl (death metal)
Summon [2003] And The Blood Runs Black (death / black / thrash metal)
Talbot [2013] Scaled (doom / post metal)
Thrall [2011] Vermin To The Earth (black metal)
Thy Infernal [1999] Satan's Wrath (black metal)
Thy Infernal [2001] Warlords Of Hell (black metal)
Wind Of The Black Mountains [1996] Sing Thou Unholy Servants (black metal)
Windham Hell [1999] Reflective Depths Imbibe (ambient neoclassical)
Winter Of Apokalypse [2004] Solitary Winter Night (black metal)
Back In Stock / Снова В наличии
11th Hour, The [2012] Lacrima Mortis (doom death metal)
Ahab [2006] The Call Of The Wretched Seas (funeral doom)
Ahab [2009] The Divinity Of Oceans (funeral doom)
Ahab [2012] The Giant [Limited Edition] (funeral doom)
Avsky [2008] Malignant (black metal)
Avsky [2010] Scorn (black metal)
Azaghal [2008] Omega (black metal)
Bleeding Fist [2011] Devil's Ferox (black thrash metal)
Dodsferd [2009] Suicide And The Rest Of Your Kind Will Follow (suicidal black metal)
Draconian [2005] Arcane Rain Fell (gothic doom metal)
Draconian [2006] The Burning Halo (gothic doom metal)
Draconian [2008] Turning Season Within (gothic doom metal)
Draconian [2011] A Rose For The Apocalypse (gothic doom metal)
Ereb Altor [2010] The End (epic viking / doom metal)
Ereb Altor [2012] Gastrike (epic viking / doom metal)
Fear Of Eternity [2005] Toward The Castle (melancholic black metal)
Fear Of Eternity [2006] Ancient Symbolism (melancholic black metal)
Fear Of Eternity [2006] Spirit Of Sorrow (melancholic black metal)
Hiems [2009] Worship Or Die (avantgarde black metal)
I Shalt Become [1998] Wanderings (depressive black)
Isole [2008] Bliss Of Solitude (epic doom metal)
Isole [2009] Silent Ruins (epic doom metal)
Nazxul [2009] Iconoclast (occult black metal)
Nocturnal Fear [2008] Code Of Violence (thrash metal)
Nocturnal Fear [2009] Metal Of Honor (thrash metal)
Satan's Host [2004] Burning The Born Again…(A New Philosophy) (death black metal)
Satan's Host [2006] Satanic Grimoire - A Greater Black Magick (death black metal)