Solitude Store update!
Download full catalog - http://solitudestore.com/SP-Catalogue-EN.xls
Скачать полный каталог - http://solitudestore.com/SP-Catalogue.xls

We invite you to join our Google group to get all label updates
Присоединяйтесь к нашей группе Google чтобы получать информацию о новых поступлениях и новости лейбла (подписчики получают список новинок сразу после рассылки каталога без задержки)
http://groups.google.com/group/solitudeprod
Alley "Amphibious"
CD available for preorder (release date 25/03/2013)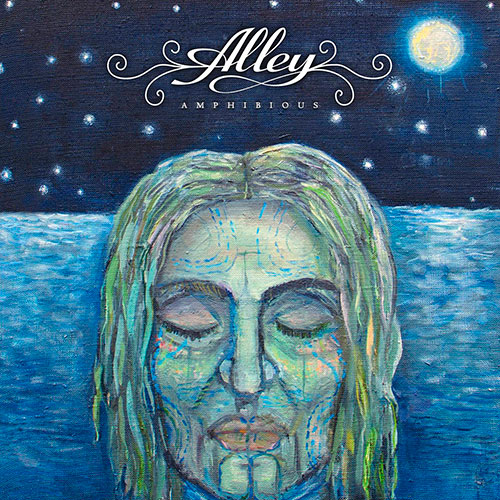 The second long-awaited album by the Russian extreme band famous for its debut album as successors of early Opeth! Besides professional approach to songwriting, performance and perfect sound, this time the musicians demonstrate original ideas which became the own face of the band. Progressive death metal demonstrated at «Amphibious» is impressive, diverse and emotional in addition to intellectual refinement which is the essential feature of Alley. The album is strongly recommended to fans of early Opeth and Daylight Dies, as well as all fans of extreme metal music.
Второй долгожданный альбом российской экстремальной группы, получившей известность со своим первым альбомом, как продолжателей дела ранних Opeth! На этот раз музыканты демонстрируют слушателям не только профессиональный подход к исполнительскому и композиторскому мастерству, а также к безупречному саунду, но и свои оригинальные идеи, превращающие группу в самостоятельную единицу со своим собственным лицом. Progressive death metal, продемонстрированный музыкантами на «Amphibious» ярок, разнообразен и эмоционален, не говоря уже об интеллектуальной утончённости, ставшей отличительной чертой Alley. Альбом настоятельно рекомендуется как поклонникам ранних Opeth и Daylight Dies, так и всем любителям экстремальной метал-музыки.
New Arrivals / Новые поступления
A Life Divided [2013] The Great Escape [Licensed CD] (electro / synth rock)
Abiotic [2012] Symbiosis [Licensed CD] (technical death metal)
Aeon [2012] Aeons Black [Licensed CD] (death metal)
Amberian Dawn [2012] Circus Black [Licensed CD] (sympho / power metal)
Anthrax [1985] Spreading The Disease [Licensed CD] (thrash metal)
Atra Mustum [2012] Chaos (symphonic black / death metal)
Beer Bear [2012] Beyond The Invisible Line [Digipak] (folk metal)
Beto Vazquez Infinity [2012] Beyond Space Without Limits [Licensed CD] (sympho heavy / power metal)
Bison B.C. [2012] Lovelessness [Licensed CD] (stoner metal)
Black Soul Blade [2012] Voodoo (thrash metal)
Cannibal Corpse [2002] Gore Obsessed [Licensed CD] (brutal death metal)
Cult Of Luna [2013] Vertikal [Licensed CD] (post metal)
De Profvndis Clamati [2011] In Between Passionate Minnuendos (funeral doom metal)
Decay Of Reality [2012] The First Dementia (death / doom metal)
Dunderbeist [2013] Songs Of The Buried [Licensed CD] (alt.rock / stoner)
Emerald Night [2012] Korol Jelfov (melodic black metal)
Exumer [1986] Possessed By Fire [Licensed CD] (thrash metal)
Exumer [1987] Rising From The Sea [Licensed CD] (thrash metal)
Funeral Speech [2013] Experimental World (technical death metal)
God Seed [2012] I Begin [Licensed CD] (black metal)
Grimlair [2011] Self-Inflicted State (black metal)
Grimlair [2012] Tragedy in Silence (black metal)
Hatebreed [2002] Perseverance [Licensed CD] (hardcore)
Helker [2013] Somewhere In The Circle [Licensed CD] (heavy metal)
Iconoclast [2013] Denunciation Of Utopia Beyond The Grave (black doom)
Lamuria Abissal [2012] O Ultimo Descanso Finalmente Lhe e Concedido (depressive black metal)
Lightning Swords Of Death [2013] Baphometic Chaosium [Licensed CD] (black metal)
Lordi [2013] To Beast Or Not To Beast [Licensed CD] (hard rock / heavy metal)
Lutavierje [2012] Pesni Nalіtyh Hmarau (folk metal)
Manowar [1996] Louder Than Hell [Licensed CD] (heavy metal)
Mors Principium Est [2012] …And Death Said Live [Licensed CD] (melodic death metal)
Munruthel [2012] Verolomstvo (pagan folk metal)
Nidingr [2012] Greatest Of Deceivers [Licensed CD] (black metal)
Nightfall [2013] Cassiopeia [Licensed CD] (dark metal)
Not Last Rise [2013] Sfumato (atmospheric black metal)
Ocean Ocean [2012] Roza Vetrov (post rock)
Onslaught [1986] The Force [Licensed CD] (thrash metal)
Oprich [2013] Birdless Heavens (folk metal)
Order Of Victory [2012] Nemo Oblivioni Tradita Est, Nihil Oblivioni Tradita Est (martial / neo-folk)
Oriana [2012] Twilight Of The Gods (folk metal)
Paradox [2012] Tales Of The Weird [Licensed CD] (thrash metal)
Percival Schuttenbach [2009] Reakcja Poganska (progressive folk metal)
Raven Black Night [2013] Barbarian Winter [Licensed CD] (traditional doom / heavy metal)
Sergej Gejchenko [2011] Tekst (avantgarde electronic rock)
Shai Hulud [2013] Reach Beyond The Sun [Licensed CD] (metal / hardcore / progressive)
Shakra [2013] Powerplay [Licensed CD] (hard rock)
Shexna [2013] Shexna (folk doom metal)
Shining [2011] VII - Fodd Forlorare [Licensed CD] (depressive black metal)
Shining [2012] Redefining Darkness [Licensed CD] (depressive black metal)
Signs [2012] Path Of The Damned (symphonic black metal)
Skyfall [2013] Convenient God (death black metal)
Smuta [2013] Na Sever (pagan metal)
Svyatogor [2012] Dictor Veritas (death / black metal)
Termin Vox [2007] Evolution [Licensed CD] (metalcore / nu metal)
Trou Noir [2011] Echoes In Black Holes (ambient / atmospheric black metal)
Various Artists [2013] Extreme Metal Compilation (various metal)
Vintergata [2013] Morovy Zemli (fantasy dark metal)
Voodoo Circle [2013] More Than One Way Home [Licensed CD] (hard rock)
Vreid [2013] Welcome Farewell [Licensed CD] (black metal)
Warlock [1985] Hellbound [Licensed CD] (heavy metal)
Warlock [1986] True As Steel [Licensed CD] (heavy metal)
Wurm [2010] Insomnies (depressive black metal)
Back In Stock / Снова В наличии
Amon Amarth [2004] Fate Of Norns [Licensed CD] (viking death metal)
Amon Amarth [2011] Surtur Rising [Licensed CD] (viking death metal)
Ancient [2001] God Loves The Dead [Licensed CD] (black metal)
Arafel [2003] The Way Of Defender (pagan black metal)
At Vance [2012] Facing Your Enemy [Licensed CD] (neoclassical power metal)
Autumn [2007] My New Time [Licensed CD] (gothic metal)
Behexen [2000] Rituale Satanum [Licensed CD] (black metal)
Beto Vazquez Infinity [2010] Existence [Licensed CD] (symphonic heavy metal)
Bifrost [2010] Heidenmetal [Licensed CD] (pagan / viking metal)
Black Sun Aeon [2009] Darkness Walks Beside Me [Licensed CD] (doom dark metal)
Borknagar [2004] Epic [Licensed CD] (viking black)
Butterfly Temple [2001] Veles (pagan metal)
Cannibal Corpse [1994] The Bleeding [Licensed CD] (brutal death metal)
Cannibal Corpse [1996] Vile [Licensed CD] (brutal death metal)
Carpe Tenebrum [2002] Dreaded Chaotic Reign [Licensed CD] (death metal)
Cattle Decapitation [2012] Monolith Of Inhumanity [Licensed CD] (progressive death / grind)
Cemetary [2000] The Best Divine [Licensed CD] (progressive metal)
Ceremonial Perfection [2010] Alone In The End (melodic death metal)
Charon [2000] Tearstained [Licensed CD] (gothic metal)
Charon [2002] Downhearted [Licensed CD] (gothic/heavy)
Charon [2003] Songs For The Sinners [Licensed CD] (gothic/heavy)
Charon [2005] The Dying Daylights [Licensed CD] (gothic/heavy)
Cornerstone [2007] Two Tales Of One Tomorrow [Licensed CD] (melodic metal)
Cruachan [2002] Folk Lore [Licensed CD] (celtic folk metal)
Dark Tranquillity [2002] Damage Done [Licensed CD] (melodic death metal)
Dark Tranquillity [2004] Exposures - In Retrospect And Denial [Licensed CD] (melodic death metal)
Dark Tranquillity [2005] Character [Licensed CD] (melodic death metal)
Enochian Crescent [2006] Black Church [Digipak] [Licensed CD] (black metal)
Epicurean [2006] A Consequence Of Design [Licensed CD] (symphonic progressive metal)
Finntroll [2001] Jaktens Tid [Licensed CD] (folk metal)
Finntroll [2007] Ur Jordens Djup [Licensed CD] (folk metal)
Finntroll [2010] Nifelvind [Licensed CD] (folk metal)
Flowing Tears [2000] Jade [Licensed CD] (gothic metal)
God Forbid [2005] IV - Constitution Of Treason [Licensed CD] (melodic thrash metal)
Hanging Garden [2007] Inherit The Eden [Licensed CD] (death doom metal)
Iced Earth [1999] The Melancholy E.P. [Licensed CD] (thrash metal)
Immortal [1992] Diabolical Fullmoon Mysticism [Licensed CD] (cult black metal)
Jacobs Dream [2005] Drama Of The Ages [Licensed CD] (power metal)
Kalmah [2008] For The Revolution [Licensed CD] (death black metal)
Khold [2005] Krek [Licensed CD] (black metal)
King of Asgard [2012] …To North [Licensed CD] (viking metal)
Kurazh [2006] Vechnaya Igra (heavy metal)
Lullacry [2005] Vol.4 [Licensed CD] (gothic metal)
Lyriel [2012] Leverage [Licensed CD] (gothic folk metal)
Marble Arch [2002] Another Sunday Bright [Licensed CD] (gothic metal)
Merrimack [2012] The Acausal Mass [Licensed CD] (black metal)
Moonsorrow [2005] Verisakeet [Licensed CD] (folk viking metal)
Moonsorrow [2008] Tulimyrsky EP [Licensed CD] (folk viking metal)
Moonspell [1995] Wolfheart [Licensed CD] (dark doom metal)
Moonspell [1996] Irreligious [Licensed CD] (dark doom metal)
Moonspell [1997] Sin/Pecado [Licensed CD] (dark doom metal)
Moonspell [2001] Darkness And Hope [Licensed CD] (dark doom metal)
Moonspell [2004] The Antidote [Licensed CD] (dark doom metal)
My Own Private Alaska [2008] Mopa [Licensed CD] (post hardcore)
Na Sever [2012] Korni L'dov (folk doom death metal)
Norther [2011] Circle Regenerated [Licensed CD] (melodic death metal)
Ordalion [2010] Through Coma Of Soul (symphonic black metal)
Poisonblack [2003] Escapexstacy [Licensed CD] (gothic metal)
Poisonblack [2006] Lust Stained Despair [Licensed CD] (gothic metal)
Poisonblack [2008] A Dead Heavy Day [Licensed CD] (gothic metal)
Powerwolf [2009] Bible Of The Beast [Licensed CD] (power metal)
Rabies [2012] Kaplja V Beskonechnost (power/heavy metal)
Ram-Zet [2005] Intra [Licensed CD] (avantgarde gothic metal)
Sentenced [1991] Shadow Of The Past [Licensed CD] (melodic doom death metal)
Sentenced [1995] Amok [Licensed CD] (melodic doom death metal)
Sentenced [1996] Down [Licensed CD] (melodic doom death metal)
Sentenced [2005] The Funeral Album [Licensed CD] (melodic doom death metal)
Sethian [2003] Into The Silence [Licensed CD] (progressive heavy metal)
Silentium [2006] Seducia [Licensed CD] (doom gothic metal)
Silentium [2008] Amortean [Licensed CD] (doom gothic metal)
Suidakra [2011] Book Of Dowth [Licensed CD] (folk melodic death metal)
Swallow The Sun [2007] Hope [Licensed CD] (melodic doom death metal)
Swallow The Sun [2009] New Moon [Licensed CD] (melodic doom death metal)
Swallow The Sun [2012] Emerald Forest And The Blackbird [Licensed CD] (melodic doom death metal)
Textures [2009] Silhouettes [Licensed CD] (progressive metalcore)
Thormesis [2012] Von Leere Und Tod [Licensed CD] (pagan black metal)
Thy Serpent [1996] Forests Of Witchery [Licensed CD] (dark metal)
Thy Serpent [1998] Christcrusher [Licensed CD] (dark metal)
Tiamat [1991] The Astral Sleep [Licensed CD] (gothic doom metal)
To Separate The Flesh From The Bones [2004] Utopia Sadistica [Licensed CD] (death metal / grindcore)
To/Die/For [2005] IV [Licensed CD] (gothic metal)
To/Die/For [2006] Wounds Wide Open [Licensed CD] (gothic metal)
To/Die/For [2011] Samsara [Licensed CD] (gothic metal)
Troll Bends Fir [2011] Brothers In Drinks (folk rock / metal)
Unleashed [1991] Where No Life Dwells / And The Laughter Has Died [Licensed CD] (death metal)
Vital Remains [1997] Forever Underground [Licensed CD] (brutal death metal)
Viter [2010] Dzherelo (folk metal)
Voj [1991] Krugami Vechnosti (cult funeral death doom)
Warder [2012] Below The Surface (death metal)
Who Dies In Siberian Slush / Ego Depths [2011] Split CD - Four Fragments Of Fading Life (funeral doom)